Some concrete help
Giving to the museum means making your love for art and culture tangible. It helps the Foundation in a concrete way to make the Bagatti Valsecchi collections available to the public and to organize activities, such as concerts, theatricalized readings, exhibits, and kids workshops, that bring adults and kids closer to culture. Entering the group of Sustainers of the Bagatti Valsecchi Museum means sharing the essence of the museum and its role in Milan, in its vital and elegant heart, the fashion quarter. Within the walls of this historic house museum you can breathe the history of a family that loved art and culture so much that it dedicated itself to it as a lifelong project.
Friends of the Bagatti Valsecchi Museums
Become an active support of the museum … Join us!
Help us to restore a piece of armor
One of the symbols of the Bagatti Valsecchi Museum is a beautiful piece of armor from Brescia dating to the 17th century. It urgently needs restoration. Help us to return it to its antique splendor.
Make a donation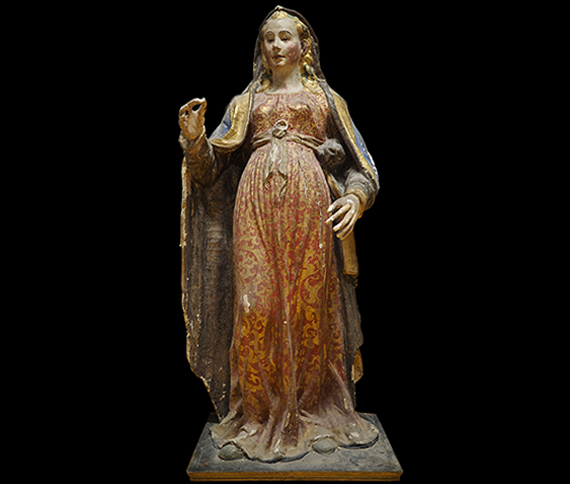 Restoration of an earthquake damaged work
Contributing to the restoration of damaged art pieces to help the Italian regions hurt by the 2016 earthquake: this is the objective that the Bagatti Valsecchi Museum has set for itself by activating a fundraising campaign during the exhibit, "The Return of Cola dell'Amatrice".
Make a donation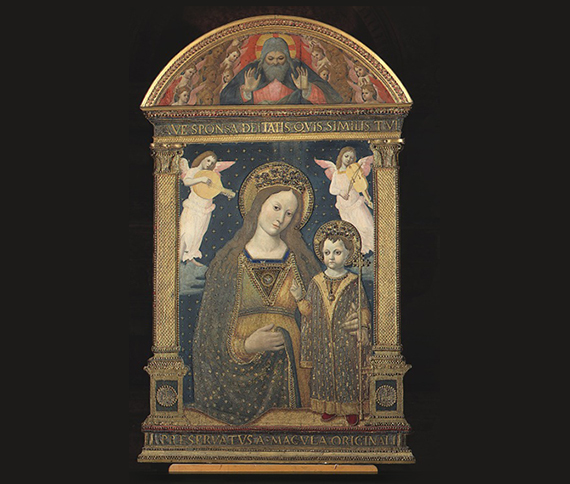 Let's save a very unique piece
The Madonna and Christ Child with music-making angels, cherubs and God the Father is a multi-material piece of the end of the 15th century by the Milanese artist Giovanni Ambrogio Bevilacqua. It needs a careful restoration.
Make a donation
Those who support our projects
New Voices
A heart-felt thank you to Cinzia Buccellato, a Friend of the museum, who has made this initiative possible.
Thursdays at the Bagatti Valsecchi Museum
Those who have supported us over the years
ADSI – Associazione Dimore Storiche Italiane
Agfa-Gevaert N.V.
American Express
Associazione Amici Museo Bagatti Valsecchi
Associazione Turismo del Comune di Milano
Associazione Wagneriana di Milano
Axa Assicurazioni
Azucena
Banca Akros
Banca Arner
Banca Intesa
Bertoni
Borghi International
Bosoni
Bormioli Rocco
Bottega Verde
Camera di Commercio Milano
Canali
Cassa Lombarda
Cavit
Cebi
Christie's
CLS Architetti
Cinzia Buccellato
Comune di Milano – Assessorato alla Cultura
Consiglio Zona1 Milano
Contatto Banqueting
Cosmit
Cristalleria Livellara
Davide Pizzigoni
Enoteca Angelo Betti
Epson
Faber Castell
Fazioli
Flos
Fondazione Banca del Monte di Lombardia
Fondazione Cariplo
Fondazione Club Lombardia
Fondazione Cologni dei Mestieri d'Arte
Fondazione MITO
Francesco Pertegato
Galateo
Galleria Scaletta di Vetro
Gangemi Editore
Garden Club
Gioventù Musicale Italiana
GPA Assiparos
Grana Padano
Hermes
Ingegnoli Fratelli
Inner Wheel International Club
Italia Nostra
Laboratorio Arti Bovisa
Laurent Perrier
Lierac
Light Contract
Lissoni Associati Milano Design Architettura
Max&Kitchen
Metis Lighting
Milano Antiche Mura
Mondadori
Monte Paschi di Siena
Moretti Fratelli
Music Pool
Naj Oleari
Officine Ariotti
Opera Barolo
Orticola di Lombardia
Pasticceria Piave
Pinco Pallino
Pirelli & C. Real Estate spa
Prisma Assicurazioni
Progetto Cultura Intesa San Paolo
Provincia di Milano
Rachelli Italia
Ratiopharm
Regione Lombardia
Sanpellegrino
SEA Aeroporti di Milano
Seletti
Solo su Misura Arredamenti
Targetti
Tekton
Tia Tecnologia
The Photographer's Room
UniCredit
Vionnet
Walt Disney